GRIP, GIVE AND SWAY
by Kathleen A. Wakefield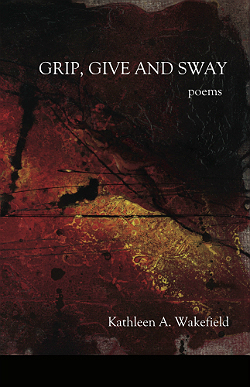 Grip, Give and Sway, is a 104-page poetry collection by Kathleen A. Wakefield. We hope you will check out this superb collection.
"Kathleen A. Wakefield's poems combine close observations of the natural world with a clear-eyed focus on eternal questions. These luminous poems speak to us soul to soul—and it is the voice of these poems I love best: calm, lyrical and direct, discovering the details of the visible world deep connections between the renewals of nature and the resilience of the human spirit." PATRICIA HOOPER, author of At the Corner of the Eye and Aristotle's Garden
"Kathleen A. Wakefield's extraordinary poems are made of the lives we must live—including love, family, loneliness, doubt, and loss—and of what we know we cannot be, but aspire toward nevertheless. They embrace the human ache to escape time and the desire to fully inhabit it, the knowledge that we cannot free ourselves from our bodies or our souls." STAN SANVEL RUBIN, author of Hidden Sequels and Five Colors
Find Grip, Give and Sway by Kathleen A. Wakefield at Amazon.com. Also available in a Kindle version.