Bukowski: An Anthology of Poetry & Prose About Charles Bukowski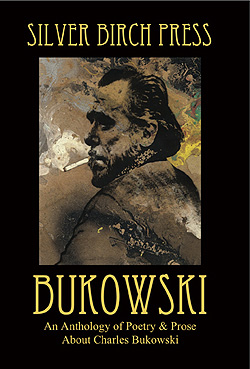 Silver Birch Press is excited and honored to announce the release of the Silver Birch Press Bukowski Anthology, a 272-page collection of poetry and prose about Charles Bukowski as well as portraits of the author by over 75 writers and artists around the world. Contributors include people who knew Bukowski — friends, fellow poets, and people he met along the way — as well as those who feel as if they knew Buk.
The collection includes poetry, essays, memoirs, short stories, vignettes, book excerpts, biographies, fantasies, satires, parodies, interviews, quips, and quotes about Charles Bukowski — as well as iconic photographs plus drawings and paintings of the man of many talents (poet, novelist, short story writer, artist) and names (Hank, Buk, Bukowski, Chinaski).
Cover Art: Mark Erickson and Katy Zartl (ALL RIGHTS RESERVED)
Contributing Editors: Jocelyne Desforges, S.A. Griffin, Suzanne Lummis, David Roskos, Joan Jobe Smith, Eddie Woods
Contributors (in alphabetical order): Christopher R. Adams / Sheril Antonio / RD Armstrong / The Art Warriors (Antonio Gamboa) / David Barker / William Barker / Black Sifichi / Harry Calhoun / David Stephen Calonne / Jared A. Carnie / Neeli Cherkovski/ Kim Cooper / Abel Debritto / Henry Denander / Jocelyne Desforges / Rene Diedrich / John Dorsey / Mark Erickson / Dan Fante / Paul Fericano / Karen Finley / Jack Foley / FrancEyE / Ed Galing / Joan Gannij / Anggo Genorga / Marjorie Gilbert / Jeffrey Graessley / S.A. Griffin / win harms / Donna Hilbert / Rodger Jacobs / Linda King / Harvey Kubernik/ Dana Laina / Lautir (Fabrizio Cassetta) / Suzuki Limbu / Michael Limnios / Gerald Locklin / Suzanne Lummis / Marvin Malone / Adrian Manning / Dean Marais / Germa Marquez Catfish McDaris / Ann Menebroker / Heather Minette / Austin Mitchell / Richard Modiano / Jon Monday / Jeff Morgan / Paul Nebenzahl / Gerald Nicosia / Michael O'Brien / bart plantenga / David S. Pointer / Alvaro Pozo / D.A. Pratt / Wendy Rainey / Steve Richmond / David Roskos / Russ Runfola / Richard Schave / Raymond King Shurtz / Joan Jobe Smith / Howard Sounes / Ben Talbot / Mark Terrill / dirk velvet / Melanie Villines / Fred Voss / Scott Wannberg / Vanessa Wilken / A.D. Winans / Bradley Wind / Erik Woltersdorf / Pamela "Cupcakes" Wood / Tim Youd / Katy Zartl
The 272-page Silver Birch Press Bukowski Anthology is available at Amazon.com.